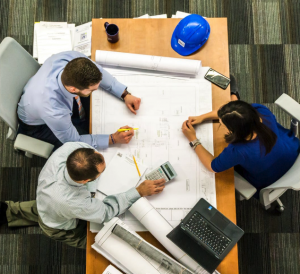 Before you can build a new home in the City of Fort Lauderdale, you will need various surveys, reports, and most importantly, construction permits. The process of obtaining permits can be overwhelming, especially to anyone building a home for the first time. There are quite a few documents you need to have on hand before you submit your permit application. The City of Fort Lauderdale has a one-page checklist that sums up the required permits: https://www.fortlauderdale.gov/home/showpublisheddocument?id=36733
The minimum plan submission requirements are mostly completed by Architects, Engineers, and/or Contractors, but the items with the most lead time (aka time to get completed) can and should be ordered by YOU, the homeowner.
To save yourself some time and stress, we've outlined the surveys and reports you will need in order to apply for building a new single-family construction project in the City of Fort Lauderdale. This article is broken down into two sections: PRE-PERMIT and POST-PERMIT surveys/reports.
PART I. Pre-permit Surveys and Reports – AKA Items To Order Now
Construction Topographic Survey
Geotechnical Report
Site Percolation Test
1. Construction Topographic Survey – A survey of the property conducted for the purposes of construction. Surveys identify property boundaries, easement and other site feature locations. Specifically this document should include:
Topographic Elevation points at 20-foot intervals along the property line and as a grid on the property. Extend the grid to 5 feet outside of property lines as well as to adjacent properties
Topographic Elevation points for the crown of road, edge of asphalt, center of city swale, sidewalk, and other public walking paths
All easements
Right-of-way dedications
If there is an existing building on the property, the survey will also need to include all building and site components
Finished floor elevation of existing home, if applicable
Tree Locations:

City of Fort Lauderdale requires documentation on all trees that are 3″ DBH (Diameter at Breast Height) and greater

Utility/Mechanical Equipment Locations:

Note locations of power meter, water meter(s), natural gas meter/propane tank lid (if applicable), and plumbing cleanout(s)
Show AC equipment locations

Request CAD file for future use by Architect/Engineers
6 signed and sealed hard copies to be used for permits
Recommended Survey Provider:
Atlantic Coast Surveying Inc
6129 Stirling Road Suite 2
Davie, FL 33314
office: 954.587.2100
www.acsiweb.net
2. Geotechnical Report – Borings are conducted on the site in areas of proposed building and pool construction, to examine the existing soil conditions of the site. A report is then generated analyzing the findings from the borings to recommend suitable foundation designs based on soil makeup and bearing capacities. This report is used by the structural engineer and architect to guide their designs moving forward. Typically a project requires (2) borings, but this may vary based on your final design. Consult an Architect if unsure.
Recommended Provider:
Specialty Engineering Consultants, Inc.
1599 SW 30th Avenue
Boynton Beach, FL 33426
561-752-5440
www.specsf.com
3. Site Percolation Test for Water Drainage – A test done onsite to determine the stormwater absorption rate of the soil on the property for stormwater design and engineering considerations.
Recommended Provider:
Specialty Engineering Consultants, Inc.
1599 SW 30th Avenue
Boynton Beach, FL 33426
561-752-5440
www.specsf.com
Part II. Post-permit Surveys and Reports – AKA Items To Order Later (but don't forget!)
As the project progresses, you'll need additional surveys. It's recommended to order all surveys together as a package to save time and money.
Construction Progress Survey Items
4 Corner survey – ordered prior to laying out formwork

shows the literal 4 corners of buildings to be constructed

Form Board survey – ordered just after completion of slab formwork

to confirm the concrete slab forms are in the correct locations

Spot survey and elevation certificate – ordered after the slab is poured and prior to tie beam inspection

to confirm the correct height of poured slab

Fence survey – ordered prior to installation of permanent site fence

marks 4 corners of site to ensure fence is built on correct property

Final survey – ordered after building completion and all sitework is complete
For more information on single-family construction permits in Fort Lauderdale, contact Rose Architecture + Construction.